Year-over-year October home sales dropped by 14%, the largest decline since the pandemic began. Even though closings only reached 4,515, that still bested the number of closings in October 2019 (4,476) which is just before the pandemic began affecting businesses in the U.S. 2021 year-to-date closings reached 47,803 which is 4.7% above the mark set in October of 2020 (45,649).
Pending sales in October were down about 11%, indicating that the housing market is continuing its gradual slowdown into November. "Now is a great time to think about selling if you have been putting it off", said Charles Hinckley, President of Kentucky REALTORS®. "Inventory is rising which means there is more opportunity for consumers to find that new perfect fit for them."
Nationally, existing-home sales increased in October, marking two straight months of growth, according to the National Association of Realtors®. Two of the four major U.S. regions saw month-over-month sales climb, one region reported a drop and the fourth area held steady in October. On a year-over-year basis, each region witnessed sales decrease.
"Home sales remain resilient, despite low inventory and increasing affordability challenges," said Lawrence Yun, NAR's chief economist. "Inflationary pressures, such as fast-rising rents and increasing consumer prices, may have some prospective buyers seeking the protection of a fixed, consistent mortgage payment."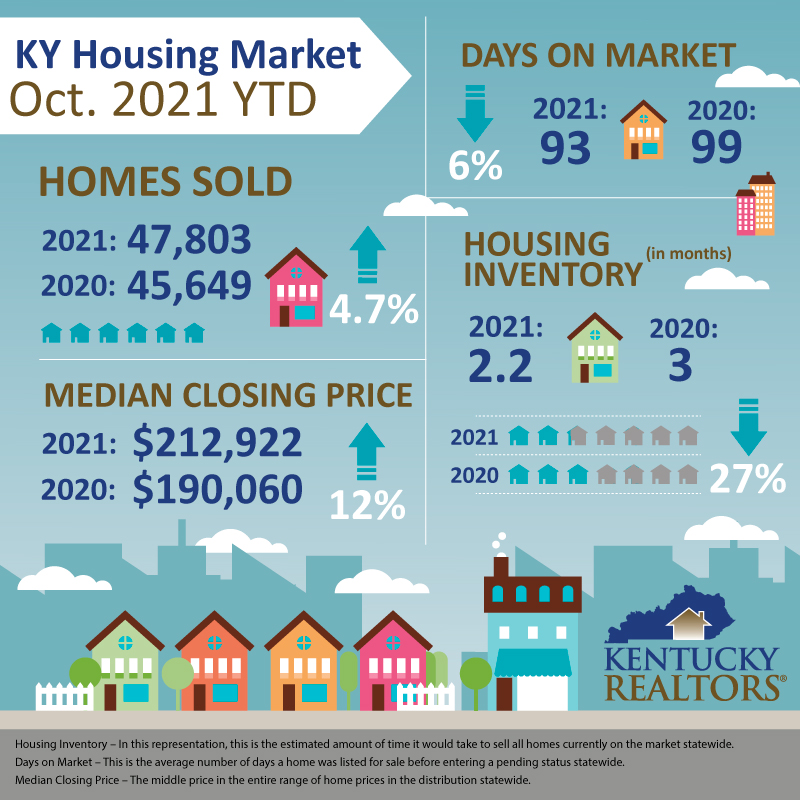 The median sale price of homes in Kentucky rose slightly to $223,000 which nearly tied the record high from July of $225k. The remarkable statistic remains the jump in median price from just before the pandemic. October 2019 saw that number reach $175,500. The October 2021 figure shows a 25% increase in just 2 years. "Wealth building has always been a key benefit of property ownership", said Kentucky REALTORS® C.E.O. Steve Stevens. "The value increases over the past 18 months have affected the consumer's ability to enter the housing market, but homeowners have simultaneously enjoyed record equity gains."
Housing inventory dropped slightly from last month to 2.2 months. Experts agree that a stable housing market contains about 6 months of inventory.
Sales volume continues to outpace last year's figures. Through October, closing sales volume totaled $11.9 billion. This is over 17% ahead of the 2020 year-to-date volume amount of $10.1 billion. The Kentucky housing market is on-track to shatter last year's record sales volume of $12.4 billion and nearly double the figure from just five years ago.